Building 24 Kitchen and Bar
1115 Bern Road
Wyomissing, Pa 19610
www.bldg24live.com
610-375-2700

---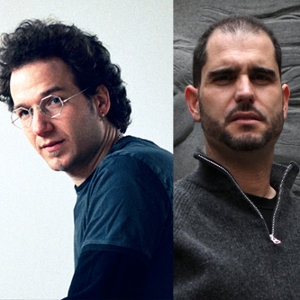 Monday, April 8

Charlie Hunter & Scott Amendola Duo
plus The Rod DeGeorge Trio

Guitarist Charlie Hunter and drummer Scott Amendola will surely give the Building 24 roof a serious stress test, as they do their level best to blow it straight off with their hard-driving grooves.
Shaped by the cauldron of musical cultures in the Bay Area and beyond, Charlie regales us with a hybrid jazz all its own, part fusion, part funk, and a whole lot of awesome.
From a youth spent in Berkeley with Joe Satriani as an early instructor and Joe Pass as inspiration, Charlie launched a 16-year, 20 album career built on a signature style on custom-made seven and eight-string guitars and a reputation for genius technique.
Charlie continues to stun audiences with his ability to simultaneously bust out tasty bass parts, melodic leads and swinging rhythms, securing his place as one of today's great guitarists.
Lending his exceptional talents to the evening will be composer/drummer Scott Amendola, whose innovative and inventive sound provoked Greg Burk of LA Weekly to say: "Scott Amendola be trippin.' His sound is like being slapped in the face with a rare steak doused in a great wine sauce."

Doors: 7 p.m. / Concert: 8 p.m.
Tickets: $20 in advance; $25 day of show

CLICK HERE to order tickets online

Charlie Hunter Website Scott Amendola Website


---
Tuesday, April 9

Les Paul Trio
featuring
Lou Pallo, guitar
John Colianni, piano
Jay Leonhart, bass
Building 24 is very excited to present the trio that accompanied the legendary Les Paul at the Iridium Jazz Club every Monday night until his passing in 2009.
To this day, the Lou Pallo-led Les Paul Trio continues to play the Iridium and has backed such extraordinary guitarists as Joe Walsh, Larry Coryell, Ted Nugent, Slash, Dickey Betts, Jeff Beck, and many others.
Lou Pallo may not be a household name but if you are a Les Paul fan, then he is instantly recognizable as the longtime rhythm guitarist of his backing trio. He met Les Paul during 1963 and they formed a music relationship shortly afterward.
Beginning in 1984, until 2009, he took the stage with Paul every Monday night; first at Fat Tuesday's in Greenwich Village and then for the last 15 years at the Iridium Jazz Club in Times Square.
Doors: 7 p.m. / Concert: 8 p.m.
Tickets: $20 in advance; $25 day of show

CLICK HERE to order tickets online

Lou Pallo Website John Colianni Website Jay Leonhart Website
---
Wednesday, April 10

Jim Weider's ProJECT PERCoLAToR
featuring
Jim Weider, guitar
Rodney Holmes, drums
Avi Bortnick, guitar
Steve Lucas, bass
Jason Crosby, keyboards/violin
Jim Weider, former member of the legendary group The Band and current member of Levon Helm's Midnight Ramble Band, is a master of classic Telecaster Guitar.
Project PERCoLAToR represents Jim's newest musical venture into a powerful groove and atmospheric guitar driven band.
The all-star lineup features Rodney Holmes on drums (Santana, Steps Ahead ), Avi Bortnick on guitar (John Scofield band), and Steve Lucas on bass (Bruce Cockburn).
Jim blends rock and blues with funk and jazz groove's combining modern drum loops and samples, to playing beautiful melodic ballads .
The band's amazing improvisation and chemistry from worldwide touring results in a show that's exciting and mesmerizing.

Doors: 7 p.m. / Concert: 8 p.m.
Tickets: $20 in advance; $25 day of show

CLICK HERE to order tickets online